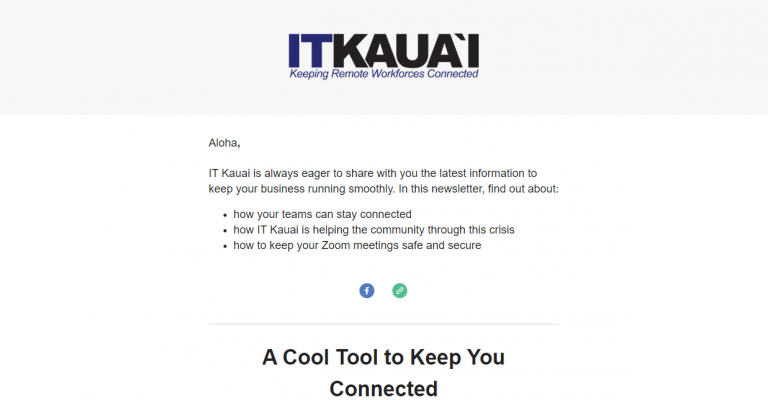 Do you want to keep up to date with IT Kauai? We are releasing monthly newsletters to recap the top tips from the month. If you missed out on this one, leave a comment below so that we can add you to the email list for June. Here's an excerpt from this month on some Zoom security tips:
Make sure you have the latest Zoom version. Click the icon in the top right on the home screen. Select "Check for Updates". Zoom will them automatically check for available updates and download the latest version, if one is available. Once the download is complete, click "Update Now".
Always password protect your meetings. Without a password, anyone with the meeting link can join and disrupt your meeting and display explicit material (aka, Zoom bombing). 
Lock your meeting once all participants have arrived. 

Click "Participants" at the bottom of your Zoom window. In the pop-up box, you will see a button that says, "Lock Meeting". When you lock the meeting, no new participants can join, even if they have the meeting ID and password. 

Ask that all users have their full name on display to prove their account is authentic. This can easily be accomplished by requiring users to sign in before joining your meeting.  
Enable waiting rooms. Waiting enable the meeting organizer more control over who can enter at what time.